Corporate Philosophy
Closely observing the health of people around the world.
Hello, my name is Dan Takeno, and I am president and CEO of AT CO., LTD. Our company's product Kekkan Bijin is a device that observes capillary conditions and blood flow from the skin's surface. The developer of this device was my father, Teruo Takeno (former chairman of IPROS CORPORATION).
My father was an entrepreneur. He was a person who loved to think about ground-breaking ideas, such as systems to prevent trains from derailing and systems for pedestrian bridges that ascend and descend.
In 2001, my father was diagnosed with cancer. While continuing his work, he tried a variety of treatment methods, including therapeutic baths, thermotherapy, and water therapy. However, he realized that there was no device that could measure the effects of these various treatments.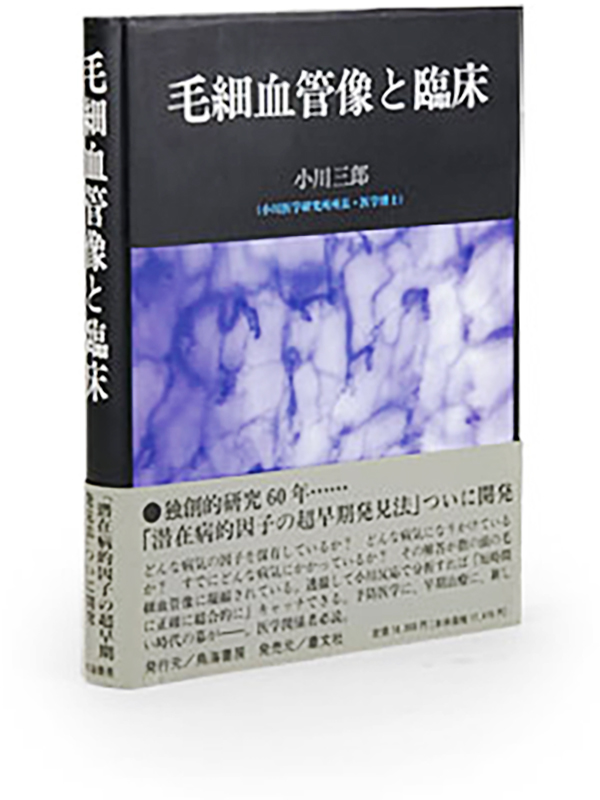 "You can say that blood is syrupy or silky, but people are taking medicines and supplements and receiving medical treatment without being able to fully comprehend the results."
It was at that time when my father was pondering this idea that he came across the book Clinical and Capillary by author Saburo Ogawa. Capillaries are where the blood that has been sent in from the heart makes a U-turn.
"What if it were the case that, if blood flows smoothly from the capillaries, that blood would be considered silky?"
As my father was considering that thought, he met with a representative from a major medical instrument manufacturer. This representative informed him that the late Professor Ogawa Naoyoshi had wanted to make a device that measured blood flow in the capillaries.
"I will make such a device myself."
After making that decision, my father began working on his own initiative to develop such a device. After two years of development, he began sales of the device in 2003.
Around 2004, observational images of blood flow in the capillaries taken from my father's device were featured on television and other programs that dealt with health information, thereby making the device a huge success. This success was so great that, at one point, production could not keep up with demand.
My father passed away in 2009.
My father's dying wish was to reduce the number of people who die from diseases that could otherwise be prevented by being cautious as well as to increase the number of healthy people. That wish has been passed on to me, and I have made it my own.
By using this device to view the capillaries of people who often feel chills or are worried about general malaise, we can create an image of their blood flow that reflects such conditions. And, by being able to see the condition of your own capillaries through capillary observation, you can make realizations regarding the status of your own health. I believe that such realizations can help people preserve their health by, for example, improving their lifestyles.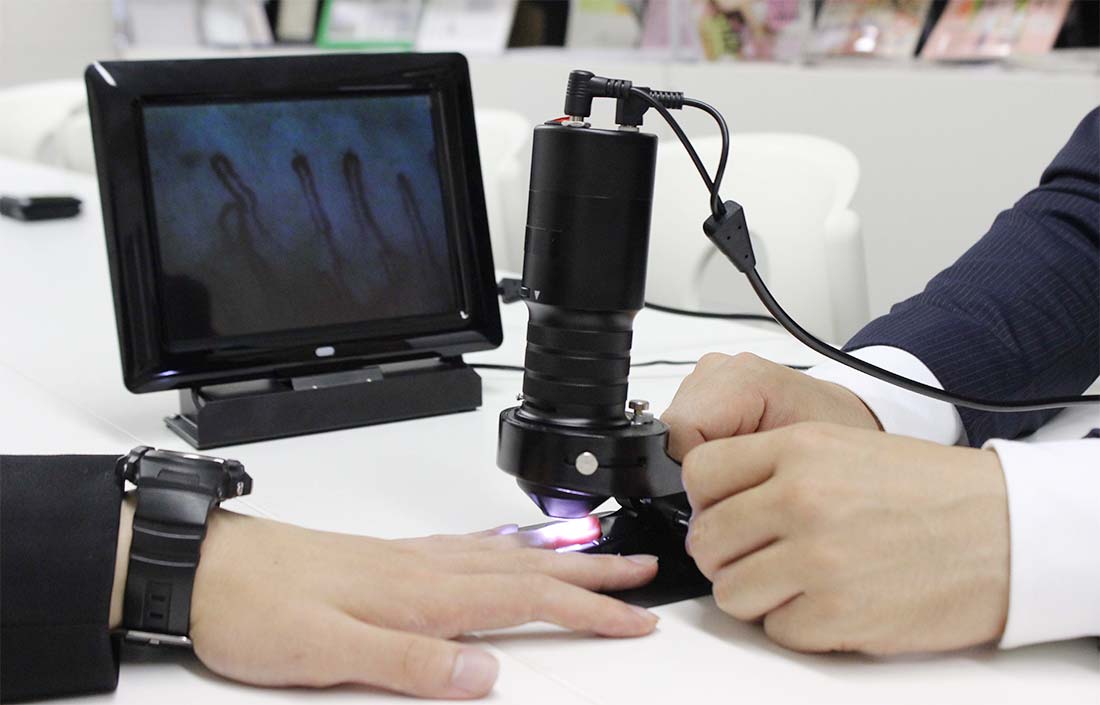 We have already sold over 2,000 units of Kekkan Bijin. However, to date, the device has only been used for its function of observing blood flow.
We are now making efforts to commercialize devices that can not only observe capillaries but can also express capillary conditions in numerical form. In regard to this endeavor, we are collaborating with Osaka University's Graduate School of Medicine, Faculty of Medicine as a business that receives aid from Osaka City to create innovation.
Through numerical displays, the condition of blood flow in the capillaries can be understood no matter who performs the measurement.
Furthermore, we would like to be able to understand on a scientific level the relationship capillary shape, length, and thickness, has with actual blood conditions and age, in addition to the relationship such capillary attributes have with lifestyle and disease.
We will closely observe the health of people around the world.
We will continue our business activities going forward with the aim of having Kekkan Bijin contribute even more to the maintenance of people's health.
January 1, 2017
AT CO., LTD.
Management Policies
1. Customer satisfaction

We satisfy our customers and earn their trust by developing and providing products and services that are useful to society giving sufficient consideration to quality, safety, and the environment.

2. Honest corporate activities

We engage in open competition that is fair and transparent. At the same time, we maintain sound and normal relationships with respect to politics, administrative authorities, citizens, and other organizations.

3. Harmony with society

We respect the cultures and customs of international and local societies and conduct business that contributes to the development of these societies.